Speed and Temp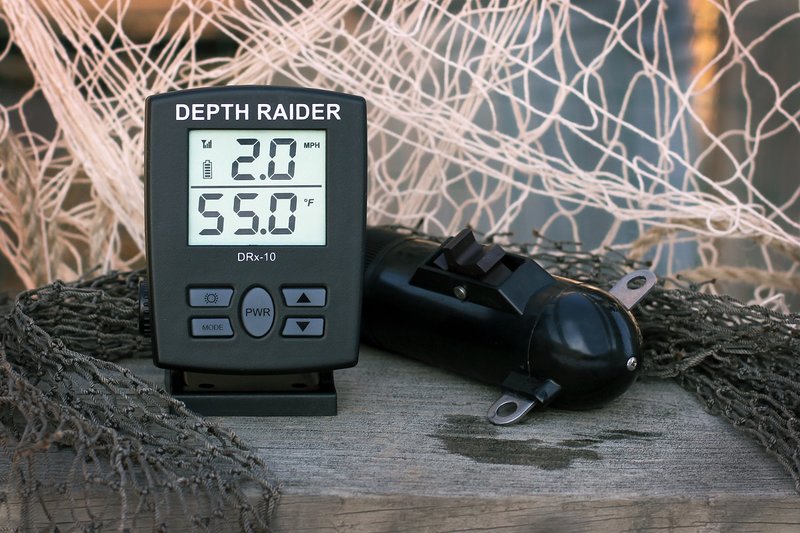 The All-New DRx-10 Speed and Temp System from Depth Raider Marine
Fine-tune your trolling program with the new DRx-10 from Depth Raider. The DRx-10 measures precise speed and temperature at the lure so you can quickly find thermoclines and temperature breaks, and adjust trolling speeds for the most productive lure presentation. With the DRx-10 you can quickly find productive fishing waters and fill your cooler faster. The DRx-10 features an all-new display unit as well as new probe electronics.
New features include user calibrate-able speed and temperature, probe signal strength indicator, probe battery status indicator, and use selectable English or Metric units.
The DRx-10 underwater sensor/transmitter probe continually transmits precise up-to-the-second information up the downrigger cable to the antenna mounted on the downrigger boom, which then sends it to the display via the included coax cable.
System includes display, probe, antenna and coax cable, power cable and special coated downrigger cable.
All new display unit with large easy-to-read LCD
Displays speeds from 0 to 9.9 MPH and temperature from 32.0 to 99.9°

F

User selectable units
- Temperature displayed in F or C

- Speed displayed in MPH, KPH or Knots

User calibrate-able speed and temperature

Improved battery condition icon on LCD
Signal strength received icon on LCD
Improved RF connectors for coax cable and antenna
New probe electronics
Probe runs up to 225 hours on a 9V alkaline battery
Probe automatically shuts off when out of water
Probe electronics sealed in expoxy